Community Service
The Western Pocono Women's Club supports the following General Federation of Women's Club (GFWC) Community Service Programs: the arts, conservation of natural resources, skill improvement and education, involvement and interest in civic and outreach programs, and women's health and wellness issues.
THE ARTS: By participating in the GFWC art contests, it gives members an opportunity to explore their creativity in photography, literature, and poetry. GFWC also sponsors youth writing contests, which are judged on the local, state and national levels. These contests are held every year, following GFWC rules and guidelines. Art and photography presentations have been enjoyed by club members at their meetings.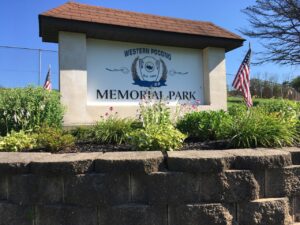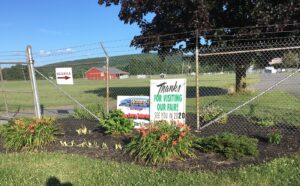 ENVIRONMENT: The GFWC Beautification Program encourages clubs to educate members and citizens about the importance of beautifying their communities and keeping them litter free. The club members support local efforts to maintain gardens, parks, and other places of beauty. We now maintain the flower beds at three areas at the Western Pocono Memorial Park on Molasses Valley Road in Kunkletown and three areas at the West End Fairgrounds in Gilbert. We are planning memorial planters at the fairgrounds for next year's fair. Our members are busy beautifying these areas. Financial support has been appropriated to West End Parks and Open Space Commission. Yearly monies are given to support a camper at the Monroe County Conservation Camp. Aluminum can tabs are collected for the Ronald McDonald House.
EDUCATION & LIBRARIES: The GFWC Education & Libraries Community Service Program encourages club women to create learning opportunities for themselves and their communities through volunteerism. Monetary contributions are made to the Western Pocono Community Library. The club provides two scholarships for two Pleasant Valley High School seniors. Annually, the club sponsors a high school sophomore to attend HOBY (Hugh O'Brian Leadership Program) at Shippensburg University. Our most recent project is supply free children's books to promote literacy. The two bookshelves in our community are located at the Chestnuthill Township Park Building and St. Luke's Health Center both in Brodheadsville.
HEALTH & WELLNESS: The GFWC Health & Wellness Community Service Program includes programs that acquaint members with contemporary issues facing their area and offer resources to enable club women to improve their communities.
The Western Pocono Women's Club has offered instruction in CPR, information about Estate Planning, Food Preservation, Identify Theft, Hospice, and Monroe County Women's Commission to name just a few. Members purchase items and crochet or knit items for Angel's Closet, a support group for families needing layettes for newborns upon leaving the Lehigh Valley Pocono Medical Center. Other ways the members help the community is by providing food for food baskets at Easter. The club also financially supports the Garden of Giving. and Meals on Wheels. Other projects the members participate in are making donations to local Food Banks and the Pleasant Valley School District Healthy Meals Program. The ladies also construct and donate quilts for their Quilts Made with Love Program. Quilts are given to clients at Meals On Wheels and Children and Youth in Monroe County.
CIVIC ENGAGEMENT & OUTREACH: GFWC's Civic Engagement & Outreach Community Service Program allow clubs to reach beyond their own communities.
Members meet monthly to clip, sort, count, and mail coupons to a military base in Japan.
Christmas Cards for the Military is one of the newer projects for the ladies. Many cards are made in conjunction with local West End Girl Scout Troops. Cards are also signed at Chestnuthill Township Community Day in September by residents in the community. In the fall they are mailed to the Veteran Hospital in Wilkes-Barre, PA, Bethesda (formally Walter Reed Hospital) in Maryland, Wounded Warriors, several military bases in the United States, VALOR in Jonas, PA, and to troops of local families. In 2019 1675 cards were sent out to our servicemen/women.
Another newer project is assisting with a picnic style lunch for Project Healing Waters. This club sponsors this twice in the summer months to help veterans enjoy an afternoon of fishing and socialization in a safe environment. One of these events is co-sponsored with their sister club, GFWC Pocono Mountain Women's Club.
GFWC Civic Engagement & Outreach Community Service Programs encourage members to take an active interest in safety and citizenship issues. Safety informational programs are presented to the members.
In order to booster troops' morale, the club has provided money to assist Operation Touch of Home. Donations also go to Veterans Assisted Living Out Reach (VALOR). Monies are sent to Women's Resources, the local volunteer fire companies, Relay for Life, and the Salvation Army.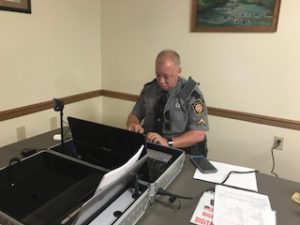 Previously, in the Spring, a Child Safety Fair was co-partnered with West End Park and Open Space Commission at the Chestnuthill Township Park Building. West End Fire Department, Tobyhanna Army Depot, West End Ambulance, Boy Scout Troop, Dietitian from Kinsley's Shop Rite grocery story, PA State Police, and Lehigh Valley Pocono Medical Center volunteer their time to educate the children who attend. On Halloween evening members distribute candy with other community members in the area, to children at the Chestnuthill Township Park Building.